SHORT BIOGRAPHY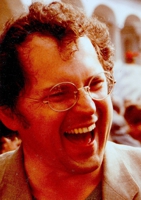 Gerhard Gutruf is a radical maverick in the international art scene, setting his vision of a very personal new classicism against the mainstream of current art market trends. Brigitte Borchardt-Birbaumer stated in the catalogue to the Beijing exhibition in 2000: "In many countries, Gutruf is one of the few contemporary visual artists from [Austria] who is known and of importance."
Gutruf develops his pictorial worlds between the conflicting poles of utopian ideas and structural studies of major works of European art. His creative method resembles scientific test series – he works simultaneously on different levels of abstraction, in diverse techniques, on various themes: ranging from studies from nature, to often ironic variations of well-known masterpieces, to artistic equivalents of spatio-temporal problems. His paintings and drawings are characterised as both virtuoso and puristic.
Gerhard Gutruf was born 1944 in Nikitsch/Burgenland and studied at the Academy of Fine Arts in Vienna from 1962-1970. He spent the following year in Rome as the benefactor of a stipend. In 1974, Gutruf was the youngest artist ever to exhibit his work in the Kupferstichkabinett (print room) of the Academy of Fine Arts in Vienna. In 1976 he presented his painting Hommage à Vermeer – a paraphrase of the studio painting by Johannes Vermeer – in the renowned Viennese gallery Würthle. Later, in 1979, he staged a solo exhibition at the famed Austrian Galerie Belvedere. One of his many educational trips brought Gutruf to Mexico, where the famous 90-year-old painter Rufino Tamayo encouraged a Gutruf exhibition in Mexico City. After further major exhibitions in Guadalajara, Cairo, Addis Ababa, Bratislava, Pretoria, and the Museu da Electricidade in Lisbon among others. Gutruf has been invited by Liu Xun, the doyen of Chinese painting, to exhibit his work in the International Yi Yuan Museum in Beijing. This exhibition was honoured through inauguration by Chinese Minister of Culture Pan Zhenzhou. According to the 14th June 2000 issue of Beijing Daily: "The exhibition of Austrian painter Gutruf has unexpectedly fascinated Chinese painters and audience". Further solo exhibitions followed in Switzerland, Istanbul, the Czech Republic, in the Museo Municipal de Arte Contemporáneo in Madrid, Kiev, and the Ningbo Museum of Art in China. Between 2009-10 he presented his work at various venues in the Netherlands, including Delft's Vermeer-Centrum, in which he displayed the first ever exhibit to feature a living painter. In 2012 the Austrian Chancellery extended an invitation to Gutruf to present a portfolio of his work in Palais Porcia in Vienna. In 2013 he dedicated an entire exhibition in the Italian Cultural Institute in Vienna to the quintessential landmark of Rome's classical period – the Colosseo. Two exhibitions in Zurich followed in 2014/15, the retrospective in the European Cultural Center in Remagen, Germany, 2015/16 was a great success. In November 2016, the large solo exhibition Different Perspectives was presented at the Zheijang Saili Art Gallery, Hangzhou, China, then Gutruf exhibited his works at the Shanshui Pavilion in Ningbo, China. 2018 Burgenländische Landesgalerie, Eisenstadt. 2018/19 Viaggio nel Colosseo at the Museo dei Fori Imperiali, Rome. It was voted the best exhibition in Rome in February 2019. In January, it was Andy Warhol .... 2019 Early works and recent Capriccios, Gauermann Museum, Miesenbach, Lower Austria.
Gutruf has been awarded with several distinctions, including the honorary title of professor, the Austrian Ehrenkreuz (Cross of Honour) for achievements in science and art, the Schaechter Scholarship for Advanced Studies, New York in 2002 and the Cavaliere dell'Ordine della Stella d'Italia in September 2015, Cavaliere dell'Ordine della Stella di S. Silvestro Papa 2019.